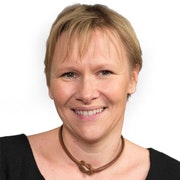 Laurence Lehmann-Ortega
Affiliate Professor
Strategy and Business Policy
Laurence Lehmann-Ortega is an affiliate Professor of Strategic Management at HEC Paris.
She is a graduate of HEC Paris and earned a PhD. in management science from the University of Aix-en-Provence (France).
Laurence first worked as a consultant in strategy. In 2000, she joined Sup de Co Montpellier (France) as a Director of Graduate and MBA programs.
As an Affiliate Professor at HEC Paris since 2009, she teaches strategy and is a director of several custom programs at HEC Executive Education. Laurence received the best teacher award at HEC in 2014.
Her research focuses on strategic innovation (also called business model innovation), especially within incumbent firms in mature and low-tech industries.
Laurence co-authored Strategor, the leading strategic management textbook in France (translated into 4 languages). She has also published several articles in journals such as Long Range Planning and M@n@gement.
She is the co-author of "Odyssey 3.14 Reinvent your business model", an original approach combining innovation and strategy. .