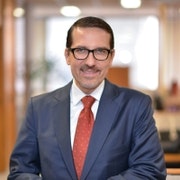 Alberto Sansiviero Jr.
MBA
FIA Futures Studies Program
He is a founding partner at CAPIZA and built a solid career in in both domestic and multinational financial institutions and consulting companies. He was part of the Corporate Finance team at PwC, partner of Clear Horizon Research and worked in investment banking, commercial and credit market departments in major financial institutions, including Banco Santander, Banco Espírito Santo, Unibanco, Prudential Securities, Crédit Agricole Indosuez, Banco Modal and Banco de Investimentos Garantia. Alberto is a member of the Brazilian Institute of Financial Executives (IBEF SP), of the Turnaround Management Association (TMA Brazil), of IBGT's (Brazilian Institute of Management and Turnaround) Advisory Board, Chairman of the Board of Instituto Paradigma and guest professor at International and Executive MBA programs at FIA. Alberto holds a degree in Business Administration from Faculdade Ibero Americana – 1991, an International Executive MBA from FIA – Fundação Instituto de Administração, having participated in the International modules in Vanderbilt (USA), Cambridge (England), EMLYON (France and China), Tonji University and Lingnan College (China) – 2012.