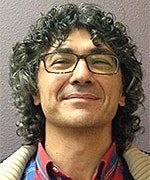 Manel Martínez-Ramón
Professor
Electrical and Computer Engineering
Manel Martínez-Ramon es el Catedrático Rey Felipe VI de la Universidad de Nuevo Mexico, Estados Unidos de América. Es doctor en Tecnologías de las Comunicaciones por la Universidad Carlos III de Madrid (1999) e Ingeniero de Telecomunicación por la Universitat Politècnica de Catalunya (1994).
Ha sido titular interino en la Universidad de Alcalá, asociado en la Universidad Politécnica de Cartagena y Titular de Universidad en la Universidad Carlos III de Madrid. Ha impartido cerca de 30 asignaturas diferentes de grado y posgrado en Electrónica, Redes Eléctricas, Electromagnetismo, Procesado de Señal, Telecomunicaciones o Procesado de Datos. Desde 2004 a 2013 impartió docencia exclusivamente en inglés en los grados bilíngües de la Universidad Carlos III de Madrid.
El Dr. Martínez-Ramón ha servido a la Universidad Carlos III de Madrid como vicerrector adjunto de infraestructuras y medio ambiente, subdirector de la Escuela Politécnica Superior, director de planificación docente y director de los grados de Tecnologías de las Telecomunicaciones y Sistemas de Comunicaciones, de la titulación de Ingeniería de Telecomunicación y de la Ingeniería Técnica de Telecomunicación, especialidad en Tecnologías de Telecomunicación.
Sus intereses en investigación se centran en el aprendizaje máquina o inteligencia computacional, donde ha colaborado en numerosos proyectos en aplicaciones de procesado de señal, multimedia y procesado de voz, teoría de la decisión y la estimación, neuroimagen, y otros. Es autor de numerosos artículos y ponencias a congresos y varios libros, que están relacionados con las aplicaciones del aprendizaje máquina a esas áreas de la ingeniería. Su actividad investigadora actual está relacionada con la radio cognitiva, redes eléctricas inteligentes (smart grid) y sistemas ciber-físicos.


Manel Martinez-Ramon holds the King Philip VI Endowed Chair of the University of New Mexico, USA. He Received a PhD in Communications Technology from the University Carlos III of Madrid (1999) and Telecommunication Engineering from the Polytcnical University of Catalonia (1994).
He has been an associate professor at the University of Alcalá, Polytechnic University of Cartagena and Carlos III University of Madrid. He has given about 30 different undergraduate and graduate courses in Electronics, Electric Systems, Electromagnetics, Signal Processing, Telecommunications and Data Processing. From 2004 to 2013 he taught exclusively in English in bilingual degrees at Carlos III University of Madrid.
Dr. Martinez-Ramon has served the Carlos III University of Madrid as deputy vice chancellor of infrastructure and environment, deputy director of the Polytechnic School of this University, director of teaching planning and director of the degrees in Telecommunication Technologies and Communications Systems, BS in Telecommunications Engineering and MS in Telecommunications Engineering.
His research interests focus on machine learning or computational intelligence, where he has worked on numerous projects in signal processing applications, multimedia and voice processing, decision theory and estimation, neuroimaging, and others. He is an author of numerous articles and conference papers and several books, which are related to machine learning applications to areas of engineering. His current research activity is related to cognitive radio, smart grid, and cyber-physical systems.