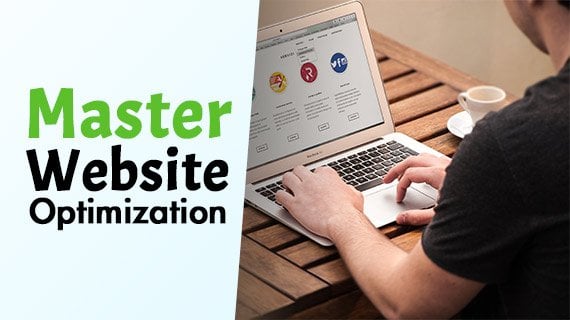 Website Optimization Course: Learn Website Split Testing Now
Course description
Website optimization is essential for your conversion rate. So, if you want to sell more goods or services, you must master website optimization tests. It might seem like an intimidating task, but don't worry. This A/B testing tutorial will guide you through every step of the way. You'll find out what is split testing and the best website conversion optimization methods and get A/B testing examples in under one hour.
Get More Customers and Increase Your Sales the Easy Way
The principles of website split testing are unknown to most people. However, entrepreneurs, writers, bloggers and avid social media users know what it is and how to use it as an advantage. If you want to understand what is split testing and even master various aspects of it, this A/B testing tutorial is the perfect opportunity for you. This website optimization course will show you how to perform and how to understand the results split testing generates and as a result achieve website conversion optimization. You will also get various A/B testing examples.
The good news is that learning website split testing is not that difficult if you have an excellent tutor. And Alun Hill might be the best instructor for this website optimization training. He knows how to explain difficult concepts in a super simple manner and doesn't shy away from sharing his own marketing strategies with his students. To make the learning process as easy as possible for you, this conversion optimization course is split into short and engaging videos. So, you can rest assured, you won't get lost even if you're completely new to this.
A Unique Marketing Technique for Your Business
First, you will learn how to use A/B testing best practices (website optimization tests) for your marketing campaigns and how many benefits they can provide. You will get familiar with the principles behind website optimization and will be able to apply these processes to your sales material. Let's say you have an excellent title for your marketing campaign, but you are not sure whether it will target the right audience. You will see A/B testing examples and learn how to make a variation of it and compare the success of both. After that, you will see the results and find out which one is better. Soon you will be able to create more titles like that and generate more views. This website split testing course will help you start making decisions based on data and user response, not your intuition.
You want to earn more with EPC (Earnings Per Click), but not sure where to start? In this conversion optimization course, we will teach you how to perform website conversion optimization, and how to utilize these conversions to generate more sales. Higher conversion rate allows your business to create more profit with the traffic staying the same.
Use Webinars to Your Advantage
This website optimization training will show you how to maximize the performance of your video content. You will be able to double your conversions and sales in this area as well and get more profits. Webinars are gaining more and more attention, and you will need to learn new strategies to stay competitive. Luckily, your instructor has the winning formula and will share it with you in this website optimization course. You will know exactly how long a webinar should be, how to structure it properly and how to engage your audience so that you can make higher conversions and make more money.
You will become a pro in all methods mention above. Furthermore, this conversion optimization course will give you a bonus tip on how to perform email A/B testing so that you can gain even more clicks.
Don't waste your time on strategies that don't work. Enroll in this website optimization course and find out how to use split tests to your advantage. Start learning now!
Meet your instructors:
Alun Hill

International Business Journalist

Alun Hill – multiple business owner, writer, coach, broadcaster, a master of various arts of becoming rich – has taught around a hundred thousand people worldwide. Alun has a keen eye on spotting quick and simple ways to improve your business. In many cases, these can also sprout into new ideas of how to earn extra money. Alun Hill has had the fortune to run businesses himself for more than 40 years. Being in the domain where he felt like a fish in the water, he met some of the best and famous world's business people. That's how he's collected the invaluable hands-on experience and a deep understanding of how things work in business and money. All this information allowed Alun to produce tons of radio and TV broadcasts, articles or videos where he explains his ideas and shares advice freely with business newbies, startups and even well-established businesses. He's also organically moved into the field of teaching online, and – surprise, surprise! – he's been massively productive creating many courses that'll help you grow your business and even grow personally. Books and teachings on personal growth have been Alun's passion for a long time now, so no wonder that he's got something to say to us. Simply put, a man who's cracked the code of being happy and wealthy!
Provider:
BitDegree
We have 796 courses
6 reviews
0 Rating
BitDegree is an innovational online IT education platform based on Blockchain. It offers free and paid courses on diverse subjects and even pays with its own cryptocurrency to the most successful students.
Thanks to our resource for searching online courses, you are able to find a course Website Optimization Course: Learn Website Split Testing Now for a fee: 4.99. Selected training belongs to category Software Testing from a provider BitDegree, and would be a good choice for the difficulty level: Beginner. Experienced educator without any problem will help you in realizing new professional heights. You can check out feedback of other users about this online course or share your opinion to help other students make a decision!
How to get new skills with Skillcombo?
Explore courses that align with your interests, dive into detailed descriptions, and browse through reviews to confidently choose your next learning path. Easily use our filters for level, duration, language, and price to find the right option for your goals.
15+ popular course providers
60000+ online courses in catalog
1000+ IT subjects