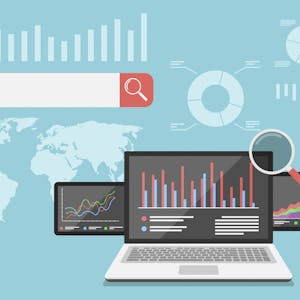 Search Engine Optimization (SEO)
Course description
This Specialization will teach you to optimize website content for the best possible search engine ranking. You'll learn the theory behind Google search and other search engine algorithms; you'll also build practical, real-world skills that you can apply to a career in digital marketing or online content development, including on-page and off-page optimization, optimizing for local and international audiences, conducting search-focused website audits, and aligning SEO with overall business strategies. Each course is intended to build on the skills from the previous course, thus we recommend you take the courses in the order they are listed. The Specialization culminates in a hands-on Capstone Project, in which you will apply your skills to a comprehensive SEO consulting task.
Provider:
Coursera
We have 3019 courses
10 reviews
0 Rating
Coursera is one of the oldest and most popular online education platforms offering diverse courses including IT specialists, undergraduates, graduates, and professionals in different fields
Thanks to our aggregator for searching online courses, you can find a course Search Engine Optimization (SEO) at the cost of: 49. Current training refers to category SEO from a learning platform Coursera, and is a perfect choice at the level of difficulty: any level of expertise. Experienced instructor without any problem will help you in realizing new career peaks. You can read reviews of other users about this online course or share your thoughts to help other students make a decision
How to get new skills with Skillcombo?
Explore courses that align with your interests, dive into detailed descriptions, and browse through reviews to confidently choose your next learning path. Easily use our filters for level, duration, language, and price to find the right option for your goals.
15+ popular course providers
10000+ online courses in catalog
1000+ IT subjects